携手同行,我们能行!——李燕总经理在齐鲁波士顿创新中心开业暨齐鲁波士顿生物技术有限公司入驻典礼上的致辞
ABOUT US

携手同行,我们能行!——李燕总经理在齐鲁波士顿创新中心开业暨齐鲁波士顿生物技术有限公司入驻典礼上的致辞
---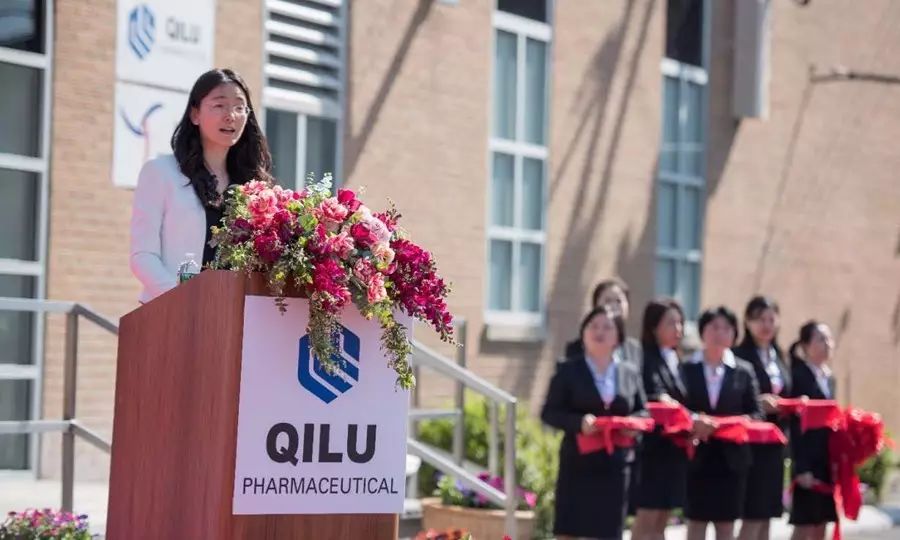 齐鲁制药集团总经理李燕女士发表热情洋溢的致辞
亲爱的 Walsh 市长,邢参赞,徐主任,各位嘉宾,女士位,先生们:
欢迎各位前来参加齐鲁波士顿创新中心开业暨齐鲁波士顿生物技术有限公司入驻的庆典。在此,我代表齐鲁制药集团,向长期支持和帮助齐鲁制药发展的马萨诸塞州、波士顿市以及济南市政府领导,以及各位教授、专家和合作伙伴,致以最诚挚的谢意!
波士顿不仅历史文化源远流长,也是一座充满创造力、激情和活力的城市。我们来到波士顿成为这个享誉世界的生命科学创新中心的一分子,就是为了寻求通过与行业科学精英合作,产生创造性的理念,从而不断探索未知世界——更重要的是,不断提供创新药物来满足迫切临床需求。
优质创新药物可及,可负担,是每个人维护生命健康的基本权力,而非特权。每个人都在为拥有健康生活而努力。然而,现实中,众多疾病侵蚀着人们的日常生活,使病人和他们的家人饱受折磨。齐鲁制药人对他们的痛苦感同身受。在过去30多年中,为保障大众的健康和高质量的生活,齐鲁制药始终秉承"用科技表达我们的爱"的理念,不遗余力地为临床使用提供最好的药。每年,超过1亿人受益于齐鲁制药的药品。
大爱无疆。齐鲁时刻准备通过丰富的产品线,不断为人类维护身体健康提供解决方案。每年,齐鲁制药产品为全世界70多个国家和地区数以十亿计的人提供帮助。齐鲁制药也一直在寻求国际研发合作的新模式,以便于提供更好的药物满足患者需求。今天,齐鲁波士顿创新中心以及齐鲁生物技术有限公司的开业,不仅是公司发展史上最重要的里程碑之一,而且这也是齐鲁制药崭新的开始。
同时,齐鲁制药将十分荣幸地成为中美两国合作交流的窗口与纽带。我们会在中美企业以及波士顿市与中国其他城市的企业间,建立沟通的桥梁。
中国哲学家荀子曾经说过,不闻不若闻之,见之不若知之,知之不若行之。让我们行动起来吧!我们已听到我们必须要做什么,看到我们需要做什么,现在我们该行动了,一起努力,我们一定能行!
谢谢大家!
以下为李燕总经理致辞原文:
Dear Mayor Walsh, Consoler Xing, Director Xu, Distinguished Guests, Ladies and Gentlemen,
Welcome to the opening ceremony of Qilu Boston Innovation Center and QLB Biotherapeutics. On behalf of Qilu Pharmaceutical Group, I would like to express my sincerest thanks to government leaders of City of Boston, Commonwealth of Massachusetts, and City of Jinan, as well as professors, experts and partners, who have always been supportive and helpful to Qilu Pharmaceutical.
Boston is not only a city rich and profound in historical and cultural foundation, but also a city full of creativity, inspiration and energy. We've come to Boston to be part of this world renowned life science innovation hub, where we seek to generate smart ideas through collaborations with great minds, exploring unknown fields, and most importantly, deliver innovative medicines to address unmet medical needs.
It should be a right, not a privilege, to have access to affordable and innovative medicines. Everyone strives for living healthy, while in reality, various diseases disrupts daily life and makes patients and their families suffer. The staff at Qilu Pharmaceutical deeply sympathize and understand their pain. To ensure healthier and better life for the public, during the past 30 years, Qilu Pharmaceutical has been sticking to the vision of "caring through science and technology", we work hard and diligently to ensure only the highest quality medicines for clinical use. Every year, over 100 million people are treated by Qilu products.
And love has no boundaries, with a rich product pipeline, Qilu is ready to provide solutions for human health. Every year, Qilu products help billions of people in over 70 countries, where the name Qilu is synonymous with caring and love. Qilu has also been exploring new models for international R&D collaboration, to deliver more and better medicines to meet patients' needs. Today, the opening of Qilu Boston Innovation Center and QLB Biotherapeutics witnesses not only one of the most significant milestones, but also, a fresh new start for Qilu.
Meanwhile, Qilu will be more than happy to be a window and link for Sino-US collaboration and communication. We can help to build bridges between US and Chinese enterprises, as well as between the City of Boston and China.
As the Chinese philosopher, Xunzi, once said: "What I hear, I forget. What I see, I remember. What I do, I understand." Let's do it together. We've heard what we have to do. We've seen what we need to do. Now is the time to do it and, TOGETHER, WE CAN DO IT!
Thank you!



---